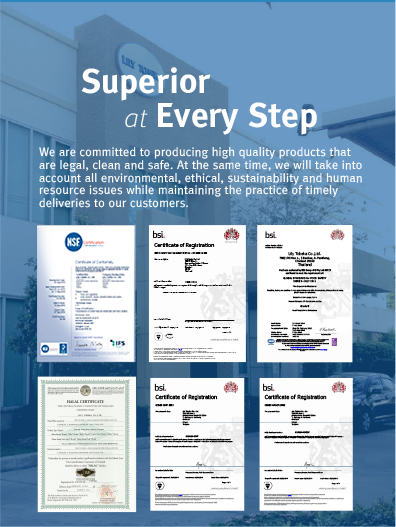 Certificate
Superior at Every Step


We pay strict attention to every detail in the production process of our snacks creating nutritious and delicious products. We select premium quality nuts from the best plantations globally. We use of natural raw materials and ingredients. We have pioneered many original and exclusive snacks across a wide variety of flavors including coffee and wasabi coated peanuts. They are all very healthy and meet the food safety standards of all the countries where they are enjoyed. We employ strict quality control procedures at every step. We select the best plantations and production techniques and we carefully inspect all the raw materials, ingredients, packaging and supplies that will be used. We achieve full traceability, enabling us to locate problems where they occure on the production line.

We do not use genetically modified raw materials or ingredients. We have a laboratory equipped with modern instrumentation for checking and analyzing the quality of our products.

Lily Tobeka has earned the following certification: Good Manufacturing Practice (GMP), Hazard Analysis and Critical Control Point (HACCP), International Food Standard (IFS), British Retail Consortium (BRC), Halal and Food Safety Management System (ISO 22000). Our products have been distributed to many supermarket networks in every corner of the world.

Quality, safety, delivery and development issues are critical to us. We have made them integral to all our practices in a way that is described in our food safety policy shown below.